Welcome! We are a Chinese manufacturer of various holiday decorations, specializing in designing and producing Christmas decorations, Spring and Easter decorations, Halloween decorations, and Valentine's Day decorations.
If you want something that will bring cheer to the festivaland make your customers smile, well, you've come to the right place, our decorations are guaranteed to do just that. We believe every ornament should be a reflection of the warmth and love that is felt during this wonderful time of year.
Channy Wu (Co-Founder) started making and selling holiday decorations after graduating from college in 1991. Mark Chen (Co-Founder) joined the industry in 1999.
After years of work experience, Mark & Channy established a deep understanding of product design, raw material selection, production process, quality control, shipping and export procedures, also accumulated rich experience in production management.
With the deepening of China's opening to the outside world, low labor costs have attracted more and more international buyers to come to China to purchase a variety of affordable holiday decorations. Gradually, only low price could not fully meet the needs of international buyers.
Mark & Channy realized that their knowledge and experience accumulated from years of work could definitely provide more services for customers. They could develop more popular styles of products, use better raw materials, provide better production quality with reasonable prices, and more timely delivery, so in 2003, with this idea in mind, the Decormaker journey began.
Keeping Up With Market Trends
Decormaker constantly keep an eye on the latest trends, fashionable colors, design concepts, and innovations of the holiday decoration industry, interior decoration and home textile industry to keep up with the market trends.
We participate in international trade shows every year, such as Christmasworld and Canton Fair, to showcase our products, conduct market research, and listen to customer's feedback to understand their ever-changing needs and expectations. Based on these insights, Decormaker launch thousands of new products each year that are stylish, high-quality and cost-effective, which are carefully created by our team of designers and skillful workers, to ensure that our customers always have access to the latest and greatest seasonal decorations.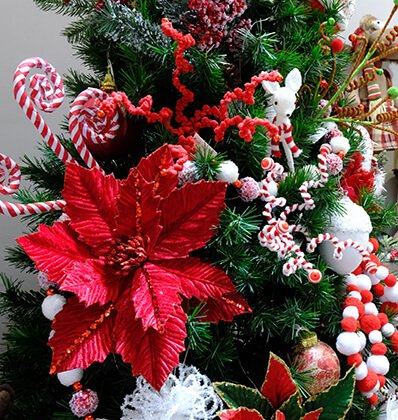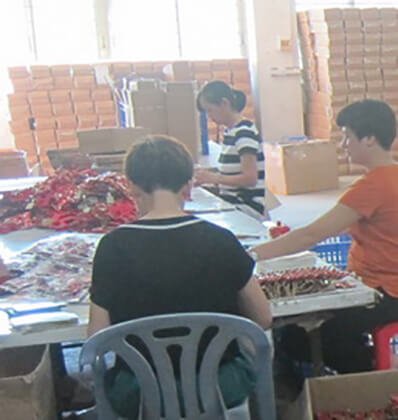 Well-Organized Production
With the knowledge about the raw material and production process, we know how to balance our product cost and quality, so that we can offer high-quality and competitive prices to customers. We use durable and trendy materials, strict quality control systems to ensure our products meet your expectations.
We also believe in sustainability and making a positive impact on the environment. That's why we use eco-friendly materials whenever possible and have implemented sustainable practices throughout our production process.
Decormaker offers customized services, welcoming customers to send us their designs or origin samples for customization. Our experienced team of designers and workers will work closely with you to turn your ideas into reality, create customized products that meet your specific needs.
Our customers from more than 70 countries or regions, include chain store, supermarket, department store, importer, trader and online seller who value our quality, variety and service. We pride ourselves on our attention to detail, commitment to quality, and dedication to customer satisfaction, and we are committed to providing excellent customer service to all our customers.
Decormaker's showroom located only 700 meters away from the Canton Fair, covering an area of 700 square meters. Here, we display our full range of products, updated regularly with newest collections. Our showroom is open all year round, business customers are welcome to visit and experience our products first-hand, pick new items to compose your new collections, and place order in a pleasant and relaxing atmosphere. Please contact our team to make an appointment or arrange pick-up service.
Thank you for choosing Decormaker as your trusted supplier of quality holiday decorations, we hope you enjoy our products as much as we enjoy making them for you.